With products certified by Classification Society around the world, we propose advanced piping solutions ideal for ships.
Ships have lots of piping for various purposes such as fuel, steam, hydraulics, and utilities. For example, there are cranes and steering for hydraulic systems; fuel and lubricating piping for engines; and water treatment equipment for ballast water. These piping systems need fittings and valves that are seawater-resistant and can be used safely in low and high temperature environments. Our products, backed by advanced technology, are certified by Classification Society around the world and widely used.
Bending technology, which enables bending of duplex stainless tubes that are difficult to bend without causing stress corrosion cracking, as well as flaring technology and other advanced piping solutions, helps reduce construction time and costs. In recent years, we have also been working on engine's exhaust gas treatment equipment and ballast water treatment equipment. In addition to individual fittings and valves, we seek products that are most suitable for various fluids and applications required for ships, and propose comprehensive piping systems by including design, assembly, and installation.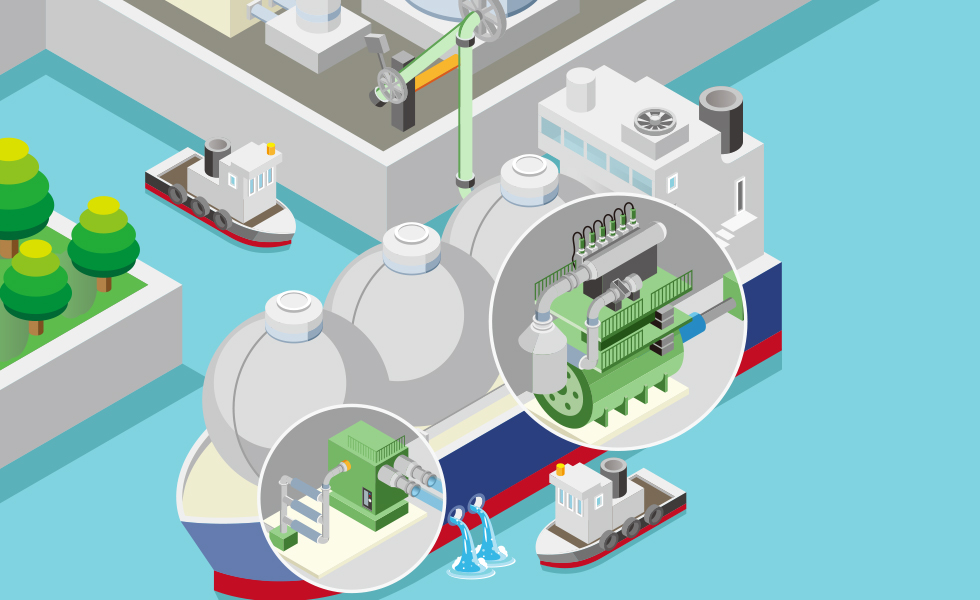 Major equipment/facilities as delivery destination
LNG carriers
Chemical ships
Ship engines
Marine jib cranes
Winches